Wedding Bouquet and Wedding Flower Trends

With a variety of available options, choosing the right wedding bouquet can be difficult. From long stems to colorful blooms, a standout bouquet can be modern, classic, contemporary and more. The best way to approach choosing an ideal flower selection is to explore all possible options. Once a bouquet design or idea is chosen a florist can help organize any extra details.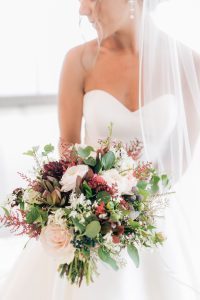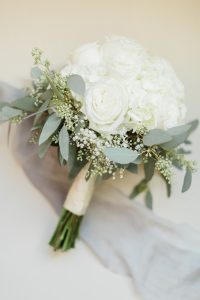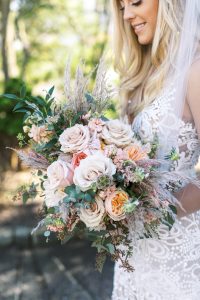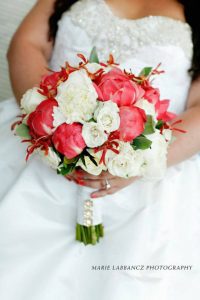 1) White Bouquet
A simple, minimalist approach, an all-white bouquet is often done with white peonies and hemp-wrapped stems. Allowing other aspects of the wedding to standout, an all-white bouquet does not detract from the wedding dress or wedding venue, instead it subtly compliments the overall wedding. Choose an all-white bouquet for a toned-down bouquet style.
2) Colorful Bouquet
A modern pop of color livens up the look of any wedding. Often done with a variety of blooms, including roses, ranunculus, succulents and more, hues used in a colorful bouquet can match the color palette of the overall wedding or can be a unique blend of colors, as desired. From mint green to pale pink, the options are endless when a colorful bouquet style is chosen.
3) Wild Green Bouquet
An ultra-modern look, a wild green bouquet can be created with daisies, lilacs and various other wildflowers. Wild greenery and a delicate ribbon perfectly complements any wedding look. This unique approach is simple to construct, projecting an elegant, refined style. Choose a wild green bouquet for a modern, low-key approach to wedding flowers.
4) Tropical Leaves
A newer approach to wedding flowers, tropical leaves accompanied by bright blooms is a standout look at any wedding. Whether a destination wedding or not, the combination of tropical leaves and bright flowers is a fresh approach to a wedding bouquet. An ideal addition to a wedding ceremony, liven up the look of any wedding with lush tropical florals.
5) Bare Branches
Another new approach to wedding flowers, branches are a great alternative to traditional florals. Instead of lavish blooms and greenery, bare branches add texture and a unique look to all wedding styles. Especially beautiful for a fall or winter wedding, bare branches add intrigue to a traditional wedding bouquet.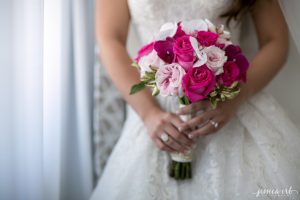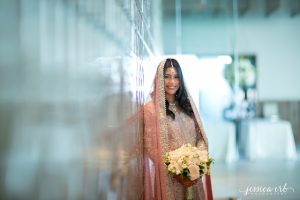 6) Monochrome
Elevating an all-white bouquet, the popular monochromatic trend focuses on selecting a single, bold hue and creating a bouquet with a variety of flowers in that selected hue. Bright and exciting, monochromatic bouquets are often done in a bright color, such as hot pink. Eye-catching, monochromatic wedding flowers are sure to dazzle at any wedding.
7) A Single Bloom
Forgoing the traditional multi-flower approach, single bloom bouquets make an elegant statement. Perhaps the bride's favorite flower or simply a randomly chosen flower, showcasing a single floral exudes originality. Greenery can also be used to support the chosen bloom. Highlight the beauty of a single flower with a single bloom bouquet.
8) Small Bouquets
Whether a few carnations or a simple selection of imperfect blooms, smaller bouquets are gaining in popularity. Leaving behind perfectly organized and rounded wedding bouquets, more brides are choosing a relaxed approach to wedding flowers. Small touches of greenery, accompanied by delicate blooms, add a fun, youthful look to any wedding.
9) Traditional Blooms
Many brides choose to emulate their mother, or other close female relative, by selecting a traditional wedding bouquet style. A classic selection of wedding flowers, often including roses, peonies, hydrangeas and more, is a timeless approach. While innovative floral designs are plentiful, a traditional bouquet continues to be a stunning choice.
10) Cascading Color
Forgo the usual round bouquet shape and choose an asymmetrical style. Cascading wedding bouquets are unique and unexpected. With rich, bold florals, such as orchids, long bouquets add a fun, fresh look to any wedding. Choose an eye-catching approach to a bouquet with cascading florals.
With an array of styles and options, selecting wedding flowers can be stressful. From single bloom bouquets to cascading florals, there is an ideal approach available for every bride. When planning an upcoming wedding, pay close attention to the season, floral trends and personal preferences. Unique to a bride and her wedding day, any bouquet style can be elevated and perfected with the help of a florist. Choose a floral style and contact a florist for additional design assistance.