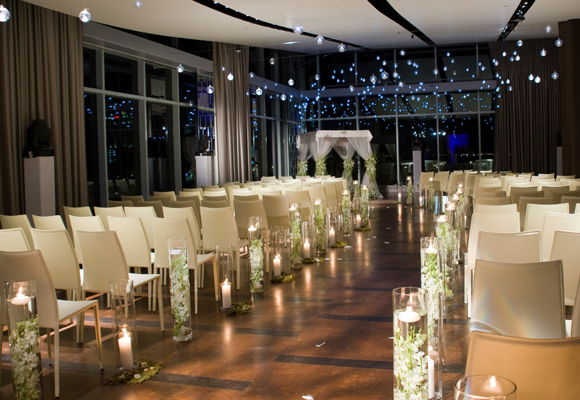 Celebrations of The Heart
At Atlantic Ocean, we will create a wedding that you and your guests will remember for a lifetime. For more than two decades, our wedding experts have planned and produced extraordinary weddings of every kind. We believe that each celebration of love is special and should reflect a couple's unique bond. At One Atlantic, all social and cultural traditions are honored and celebrated.
From the day a ring is slipped on your finger until you wave a final goodnight to your guests, our team's comprehensive planning, seamless orchestration and flawless service will leave you free to fully enjoy every moment!
Our unique over-water, ocean-front location provides the natural beauty of a beach wedding in Atlantic City, New Jersey year-round, without concerns for weather. Our expert planners ensure every detail is tailored to your vision and executed in accordance with your wishes to create the most memorable weddings in Atlantic City.
Exceptional and unobtrusive service is One Atlantic's hallmark, from intimate ceremonial events to grand receptions. Whether you dream of dignified splendor, the beauty of cultural traditions, or carefree charm, your personal vision will flourish at One Atlantic.
Please contact us today to get more information on how we can help you have the wedding of your dreams.